Quantum Game Jam is an event, where quantum physics related games are created from scratch usually during a single weekend! Anyone interested is welcome to join the multidisciplinary game developing process, where quantum physicists, game developers, game designers, artists, programmers, sound creators and other talents come together, form teams around game ideas and work together through a single weekend to make these games come true. For anyone interested how this annual event started to take place and form, check the 2021 article Kultima, Piispanen, Junnila: Quantum Game Jam – Making Games with Quantum Physicists.
JOIN THE 2023 QUANTUM GAME JAM WITH US: https://itch.io/jam/quantum-game-jam-2023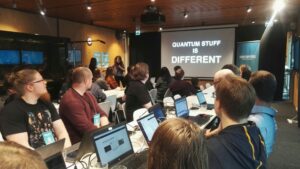 Quantum Game Jam is a particular type of a Science Game Jam. A science game jam is a game jam where the collaboration between game makers and scientists is facilitated in order to produce games contributing to scientific work, directly (such as helping to solve research questions) or indirectly (such as building awareness or teaching a scientific topic). At a Quantum Game Jam a yearly theme related to quantum physics is revealed at the start of the event together with short introductory lectures on quantum physics and game development. Through these  talks the theme is opened up even to the participant that might not have heard about quantum physics before. The event thrives to facilitate for people of all backgrounds and in particular bring them together through the creative process of game development.
In case you are interested in what type of games there have been so far, read more about Quantum Games and check the online List of Quantum Games, where you also see reference to our previous quantum game jams and other similar events!
Laura Piispanen has been the organizer of Quantum Game Jams since 2019:
2019 https://itch.io/jam/quantum-wheel
2020 https://itch.io/jam/ifqgj20
2021 https://itch.io/jam/online-quantum-game-jam
2022 https://itch.io/jam/quantum-game-jam-2022
2023 https://itch.io/jam/quantum-game-jam-2023