Quantum Moss, or QMoss for short,  is an art piece embodying quantum physics phenomena visually. Installed on site 2022, QMoss is the first ever outdoor quantum art installation! The piece is built at Aalto University campus in Espoo, Finland with an official publication event organized in May 2023 by Aalto University. QMoss embodies wood architecture, Finnish design, and a numerical simulation of a quantum physical phenomena and will slowly start to grow moss, algae, lichen and saprotrophs on its surface. The large surface areas of QMoss are intentionally left untreated to benefit the natural plant growth but this natural aging process will also question and bring into discussion the life cycle of public art.
Follow and learn more of our progress on instagram: https://www.instagram.com/kiedos.art/
You can find QMoss at 60°11'04.5″N 24°49'33.0″E . As you step out from Otaniemi A Bloc metro station the installation can be found just outside the doors looking towards Harald Herlin's Study center.
World is changing constantly and rapidly around us. Should we not take notice of if more in our everyday life?
Below is our modification of a numerical simulation depicting the time evolution of a one-dimensional particle confined in a potential well. This has been the starting point of our design that has evolved into a multidimensional and captivating outcome.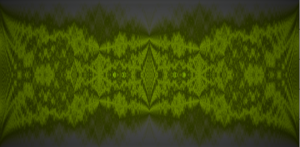 Quantum Moss, or QMoss, for short is a multidisciplinary contemporary art project communicating quantum phenomenon through a tangible and concrete media of Finnish plywood and moss. Connecting quantum physics to the famous architectural surroundings of Aalto University campus through a biological media brings a natural, soft way to communicate quantum physics, and also contributes to the biodiversity of the campus. Through this connection to natural growth and decay, QMoss questions the lifecycle of public art in the time of global climate change: World is changing constantly and rapidly around us. Should we not take notice of if more in our everyday life?
The shape of the design is stemming from a pattern (See picture above!) designed through a numerical simulation of a quantum object in a confining potential, and is depicted through the peculiar structure of the installation. Moss, then again, already belongs to the campus and is found by the observant visitors of the campus — we wish to offer more room for mosses and other biological entities to take over!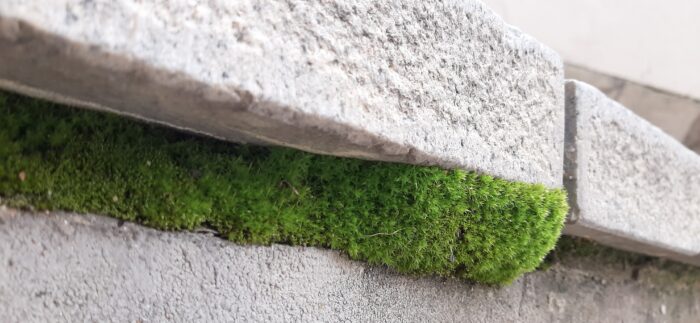 QMoss was chosen through an open competition from several wonderfully inspiring suggestions (Please refer to the official Campus Art Competition announcement by Aalto University). Our original design was to produce the designed pattern on a stone wall (See picture below!), shape of which was inspired through several reasons. One being the phenomenon of quantum tunneling, quantum particles being able to tunnel through barriers; the shape of the piece was to represent the continuum of the brick wall pushing through the other in the middle of the campus area. Second motivation for the placement of the piece comes from the urban nature at that particular spot: it already grows many types of moss and exactly at the spot, where you'd imagine the extension of the wall to stand at (See picture). The spread of the quantum moss had already begun and we were hoping to collect and save it!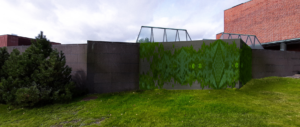 However, as the Aalto University campus was undergoing big architectural changes, the location as well as the shape of our installation was therefore affected by uncertainty of both it's final placement and it's material choices. Our design has drastically changed through an iterative process. As the design process developed, we kept the most important design aspects firmly close to our original vision and mission. This gave us in fact the opportunity to revisit the values of the installation many times: sustainability, beauty and the connection to quantum physics.
The design of QMoss by Laura Piispanen and Noora Archer could not have been made to real without our most hard-working and dedicated team of architects! 
Technical drawings and implementation: Hongfei Bi and Eszter Nagu (Aalto University)
Implementation and build: Hongfei Bi and Eszter Nagu, Milica Stefanović and Andrea Puscasu (Aalto University)