Suomeksi, klikkaa tästä!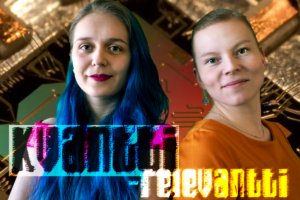 Kvanttirelevantti was a live radio show clarifying why Quantum is relevant for any of us. The show was in Finnish. A list of relevant sources and topics mentioned on the show are listed on the Finnish page. This listing will be updated again after the next live show. Kvanttirelevantti last aired on 27th of April, 2022 4pm – 6pm (EEST). (First aired 22nd of April 2021 , 2pm-4pm EEST).
In December 2022 Kvanttirelevantti publishes a Quantum Physics related fact each day in Finnish every day until Yule Eve on instagram.
M.Sc. Daria Anttila is a doctoral student at Turku University, emphasizing her research on quantum physics education and outreach.
dariale (at) utu.fi
M.Sc. Laura Piispanen is a doctoral candidate at Aalto University, dividing her research between quantum physics research in the Applied Physics department and game research in the Computer Science Department.
laura.piispanen (at) aalto.fi